Ferguson Twilight Run Receives Best Neighborhood Support Award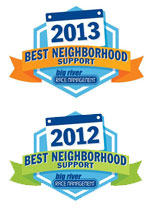 At a recent awards ceremony hosted by Big River Race Management, the Ferguson Twilight Run received the Best Neighborhood Support Award for the second year in a row. The 2012 and 2013 races were recognized for their overall community involvement in the event. Big River Race Management Director Patrick Hamel noted the Ferguson Twilight Run's "overwhelming amount of support from local businesses as sponsors and vendors, the extremely high turnout of local residents to participate, the tremendous encouragement along the route from local residents, and the great community atmosphere before, during and after the event" as reasons for its second year as an award recipient.
The Ferguson Couch to 5K team is another great example of the neighborhood support for the race. Congrats to the more than 100 people who are preparing to cross the finish line of the 2014 Ferguson Twilight Run with the Couch to 5K team! Click here to see a video of the fun, festivities and neighborhood support at the Ferguson Twilight Run over the past four years.