Ferguson Twilight Run Awarded Runner's Choice Award
The Ferguson Twilight Run received Big River Race Management's prestigious "2018 Runner's Choice Award" on February 20, 2019. The honor is voted on by runners and walkers throughout the St. Louis metropolitan area.  The Ferguson Twilight Run previously won Best Neighborhood Support five of the six times the award has been available.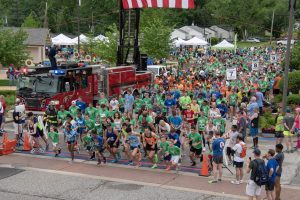 About the Ferguson Twilight Run – Since 2010, runners and walkers of all ages and fitness levels have participated in this annual twilight run/walk event. The professionally-timed courses start and finish at Plaza at 501, an open-air plaza designed for this sort of community gathering.
The route includes cheer stations and water stations through the rolling hills of scenic Ferguson. The post-race festivities include a free concert, in addition to finish area health and food vendors.
In its 10th year, the race has always served multiple purposes – it's an opportunity for active living, community support and philanthropy. More than $80,000 in race proceeds have been donated to local organizations that provide the residents of Ferguson and North St. Louis County with programs and events showcasing the enjoyable, healthy and sustainable benefits of fitness. The 2019 benefactors are the Audubon Center at Riverlands, the Emerson Family YMCA, Girls on the Run in the Ferguson-Florissant School District, Strength and Honor Mentoring and Tutoring, and The Fit and Food Connection.
This year's race, on Saturday, May 18, celebrates the 10th year anniversary by adding a 10-mile course, along with the 1-mile fun run, 5K and 10K distances and the virtual run option. The post-race concert will feature the crowd-pleasing Dirty Muggs and Big Papa G will energize the participants during pre-race festivities, which begin at 4:30 pm.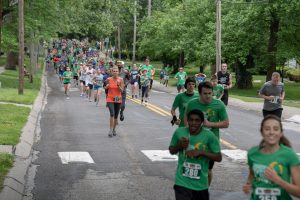 Community sponsorship is a critical component of the race's success; and this year's sponsors include: Peak Performance Sponsors – Centene Charitable Foundation, City of Ferguson, Emerson, Express Scripts, and Ferguson Brewing; and Presenting Sponsors – Negwer Materials, the James Family, Big River Running, Christian Hospital BJC, and the Gerry Noll Family.
"As a 95 year old Ferguson business, Negwer Materials is proud to sponsor and participate in this fun and well run community event. We find it to be a great opportunity to give back to the charities which the race proceeds support, as well as a time to promote health and fun within the community and our organization," says Scott Negwer, President, Negwer Materials, Inc.
For more information and to find out how to get involved either by racing, sponsoring or volunteering, please visit www.fergtwilightrun.com or email racedirector@fergtwilightrun.com.