Ferguson Twilight Run Couch to 5K training begins March 17
MEDIA RELEASE
March 6, 2014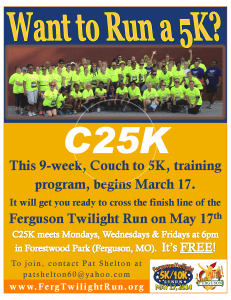 Ferguson Twilight Run Couch to 5K training begins March 17
Ferguson, Mo. – The Ferguson Twilight Run's Couch to 5K training program starts March 17. The free training runs are open to participants of all ages and fitness levels; you do not have to be a Ferguson resident.
The nine-week program will prepare runners and walkers for the Ferguson Twilight Run on May 17. Training sessions are Monday, Wednesday and Friday at 6:00 p.m. at Ferguson Sports Complex at Forestwood Park, located at 824 Ferguson Avenue.
To join the Couch to 5K program, contact Pat Shelton by email at patshelton60@yahoo.com.
2014 marks the fifth year for the Ferguson Twilight Run. It's the only evening race in North St. Louis County. The annual race features a free live concert, beer samples from Ferguson Brewing Company, food and health vendors and specials at local restaurants. This year's concert headliner is Javier Mendoza.
The race route is USATF certified. Races start and finish at Plaza at 501, an outdoor entertainment area at the intersection of Florissant Road and Suburban Avenue.
Race fees are $20 for the 5K and 10K for early registrants. The race fee for the One-Mile Fun Run is $10. Participants can register online at www.fergtwilightrun.com
The One-Mile Fun Run is presented by Ferguson Citywalk. The 5K is presented by the Christian Hospital Foundation, and the 10K is presented by Big River Running. The Peak Performance and Good Living Sponsors include Wellspring Church, the City of Ferguson, Negwar Materials, Emerson, Sam's Club #8125, Live Well Ferguson, Great Rivers Greenway, Mobile Eye Care Solutions, Fifth Third Bank, North County Inc., Blue's Arthouse Graphics and Web Design, and Pearce Neikirk Realtors.