A Conversation with Ferguson Twilight Run Race Director
A Conversation with Ferguson Twilight Run Race Director Dwayne T. James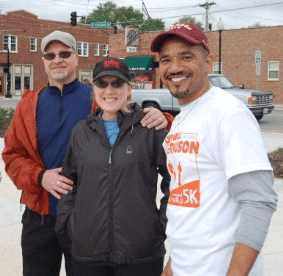 (FERGUSON,MO) Former Ferguson City Council member, loves creating opportunities for people of all ages, genders, and race to come together as a community, and challenge themselves for the better. Serving the allowed amount of terms as a Ferguson City Council Member from July 2006 to April 2016, James helped develop Live Well Events, which organizes community events to bring people together for fun and exercise. One event that continues to thrive well is the annual Ferguson Twilight Run, which is an award winning 5k/10k and one-mile race that began in 2010.
"When we first started, we only expected 50-100 people to attend – we ended up with 900," James said. Since the first race began in 2010, the number of registered participants has more than doubled. It's predicted that this year   will bring in over 2500.
"It's more than just a race. You have cheer stations along the route, you have bands along the route, beer – root beer for the kids, and families that come outside of their houses to encourage you and cheer you on" said James. "There is also a band that will be giving a free concert in the finish area."
The Ferguson Twilight Run welcomes everyone from young, old, seasoned runners, and people who have never ran before in their lives. It introduces people to a healthy lifestyle, all while bringing together the community. Races start and finish at Plaza at 501, an outdoor entertainment area at the intersection of Florissant Road and Suburban Avenue. The post-race festivities include a free live concert, beer samples from Ferguson Brewing Company, vendors and specials at local restaurants.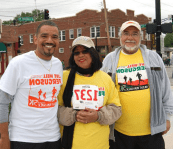 In addition to his involvement with Ferguson Live Well, although James is no longer a city council member, he continues to be actively involved in the Ferguson community. Currently, James also sits as board president for the Ferguson Youth Initiative (FYI). The Ferguson Youth Initiative in a nonprofit organization empowering teens from Ferguson and surrounding cities to become productive, positive, and contributing members of the community. Most importantly, FYI helped create a Youth Advisory Board that provides youth prospective on city issues and gives them a chance to participate in local government.
"We wanted to make sure that they have a seat at the table" said James. "As a result, teens have gone on to host teen summits, develop educational programs that target youth, and provide a report to the city on how to improve youth-police relations"
Born and raised majority of the time in North County St. Louis, Dwayne T. James graduated from Normandy High School in 1990, afterward he went on to receive his bachelor's degree in Civil Engineering from the University of Kansas, and his master's in Civil Engineering from the University of Missouri – Rolla, now more commonly known as Missouri University of Science and Technology. He is currently working on another master's in secondary education.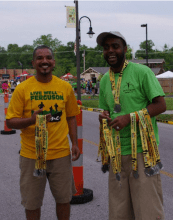 As for the future of the Ferguson community, James would like to continue to bring the community together for engaging events, like the Twilight Run, and see them continue to work together to propel the community forward as a unit. To him, the run's motto of "#RunWithFerguson" means more than just running, it means being supportive and encouraging to every sector of Ferguson and the community. "When you're running with someone, you are present alongside them every step of the way" said James.
The 8th annual Ferguson Twilight Run is on May 20, 2017. Registration is currently $24 for the 5k and 10k, and $14 for the fun-run. Teams of 10 or more running the 5k or 10k receive a $2 discount. Sponsorships are also available. Current sponsors include Christian Hospital BJC HealthCare, Negwer Materials, City of Ferguson, and Centric Group. For more information on the Ferguson Twilight Run, and to register, please visit fergtwilightrun.com.
###