5th Year and Still Running: Spotlight on Mary Shay Keathley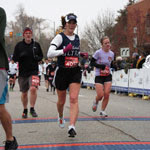 The 1st Annual Ferguson Twilight Run went close to the house of Mary Shay Keathley, so she went to the corner to watch all the runners, take their pictures and cheer them on. Keathley made the decision then that she wanted to run it the next year, and she has done the Ferguson Twilight Run 5K every year since then along with the team that she organized at her office.
The 2011 Ferguson Twilight Run was her first organized run, and she ran the Route 66 Half Marathon in Tulsa later that year. She lost twelve pounds that first year and has maintained that weight ever since. In 2012, she ran her first full marathon in Tulsa. Since then, Mary Shay has done more organized runs than she can count including a half marathon relay with a fourteen year old neighbor who was just getting into running. In 2013, one of her neighbors did her first 10K at the Ferguson Twilight Run. In addition to cheering her on, Keathley and a few others ran the last quarter mile with her.
2014 will be another big running year for her, as she has already registered for four half marathons this year. She encourages her two sons, Cory (14) and Drew (9), to run in 5K races with her whenever possible. According to Mary Shay, "Running is a part of my life now."