5 Years and Still Running: Spotlight on Scott Emmelkamp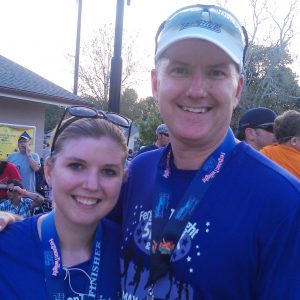 Scott Emmelkamp had never been a long distance runner, but he decided to run in the Ferguson Twilight Run with his daughter Katie last year. She ran the 5K, and Scott ran the 10K. Before last year, Scott was active in other sports like Taekwondo and tennis, but the thought of distance running was foreign to him. "Honestly, at first it was a struggle. My body had to adjust to using different muscles, but my motivation was the mental and physical challenge of distance running," he said.
Scott enjoyed doing the 10K in the Ferguson Twilight Run so much that he continued to run in races throughout last summer and completed the Rock n Roll half marathon last fall, beating his goal time by eleven minutes. Scott is looking forward to running the 10K in the Ferguson Twilight Run again this year as well as a full marathon. Cheering on runners and walkers can help get race participants closer to the finish line, and Scott says that he appreciates the support of the residents along the route of the Ferguson Twilight Run.