JOIN US ON MAY 16, 2020 FOR THE NEXT ANNUAL FERGUSON TWILIGHT RUN!
Runners and walkers of all ages and fitness levels will take to the streets of the City of Ferguson on a USATF certified course for the only twilight run/walk event in North St. Louis County. The races start and finish at Plaza at 501, an outdoor entertainment area at the intersection of Florissant Road and Suburban Avenue. The post-race festivities include a concert, vendors and specials at local restaurants. So gather the family, get your friends, and strap on your running shoes for a race just North of Ordinary.
Enjoy USATF Certified courses through scenic, historic downtown Ferguson.
Professionally timed by Big River Race Management
Wheelchairs and strollers accepted
No dogs allowed in any of our races
PARKING & SHUTTLE SERVICE
On race day, parking is available at both McCluer South-Berkeley High School (201 Brotherton Lane) and
First Baptist Church (333 North Florissant Road).
Shuttles will run every 15 minutes from 4:00pm-10:30pm between both parking locations and the race start/finish at Plaza at 501.
Please note that shuttles from First Baptist Church will not run while the race course is closed.
There will be some street closures near and along the course closed before and during the race, so plan accordingly.
RACE ROUTES
Course routes for the 5K, 10K, and 10-mile can be found HERE.
Time Limit – We ask that all participants be done by 8:30PM. This means a ~15-min/mile pace for the 10-mile.
WELLNESS EXPO / FINISH AREA VENDORS / POST-RACE PARTY
The Ferguson Twilight Run festivities continue after the race! Pick up your finisher's medal, bananas, water, Gatorade, granola bar, root-beer, and enjoy a complimentary beer (for participants 21 and older). Check back later for a list of our participating vendors for 2020.
MEDALS & AGE GROUP AWARDS
All finishers of the 1-mile, 5K, 10K, and 10-mile receive a medal. Awards are given to the top three places in each age group category for the 5K, 10K and 10-mile.  The overall top male and top female finisher receive an additional special award. Overall and age group results will be posted at the results area and ONLINE HERE following the race.
Award winners may pick up their award at the award table prior to the awards ceremony, during the awards ceremony, or from the Ferguson Community Center at a later date.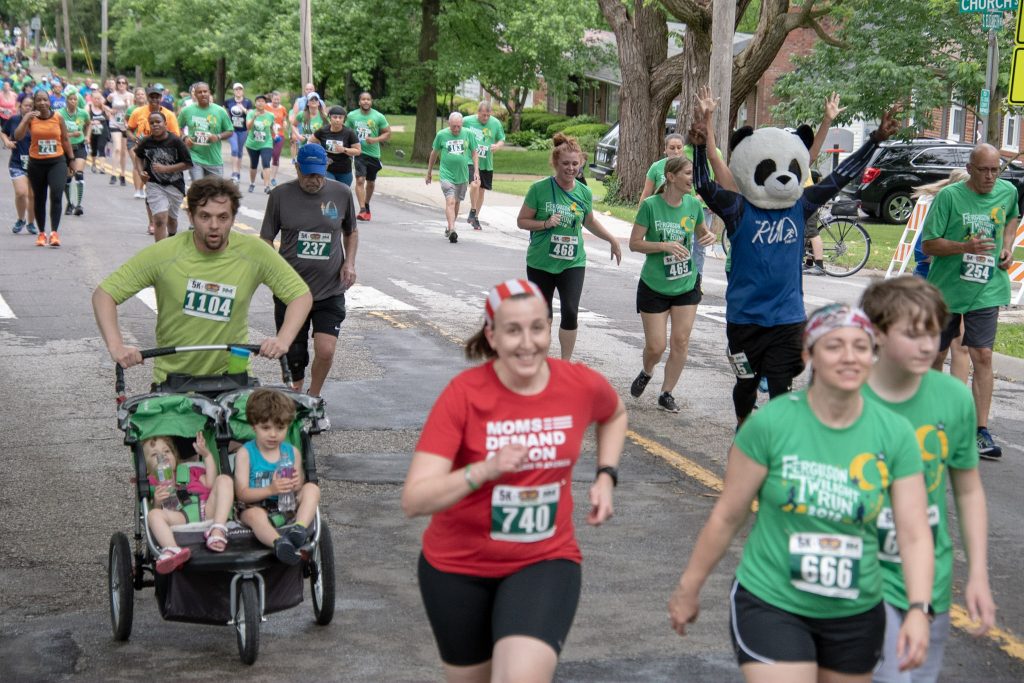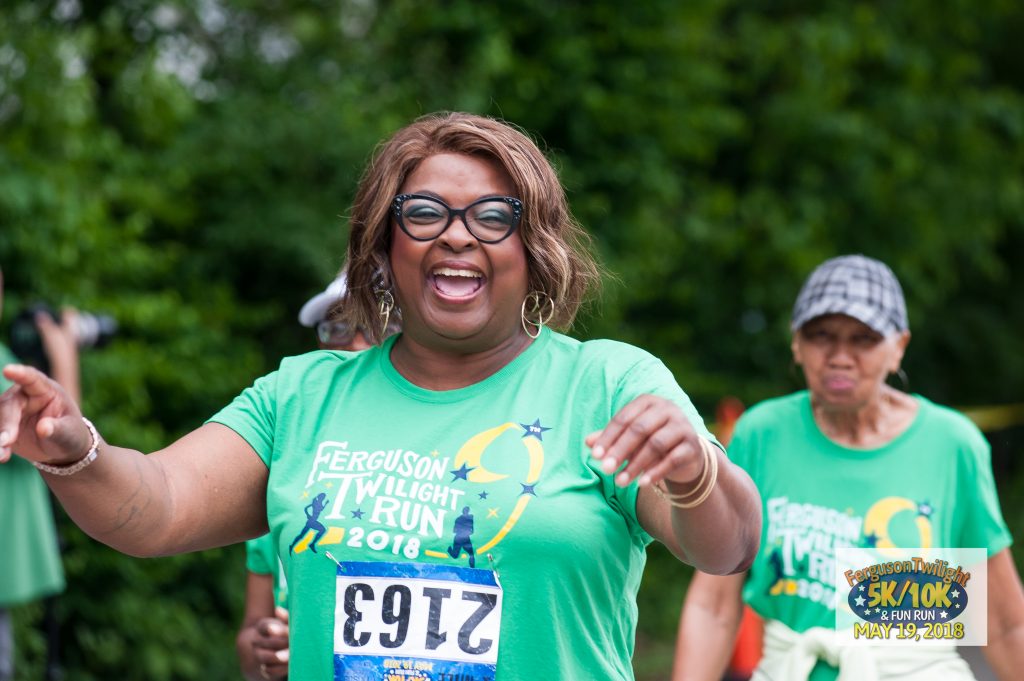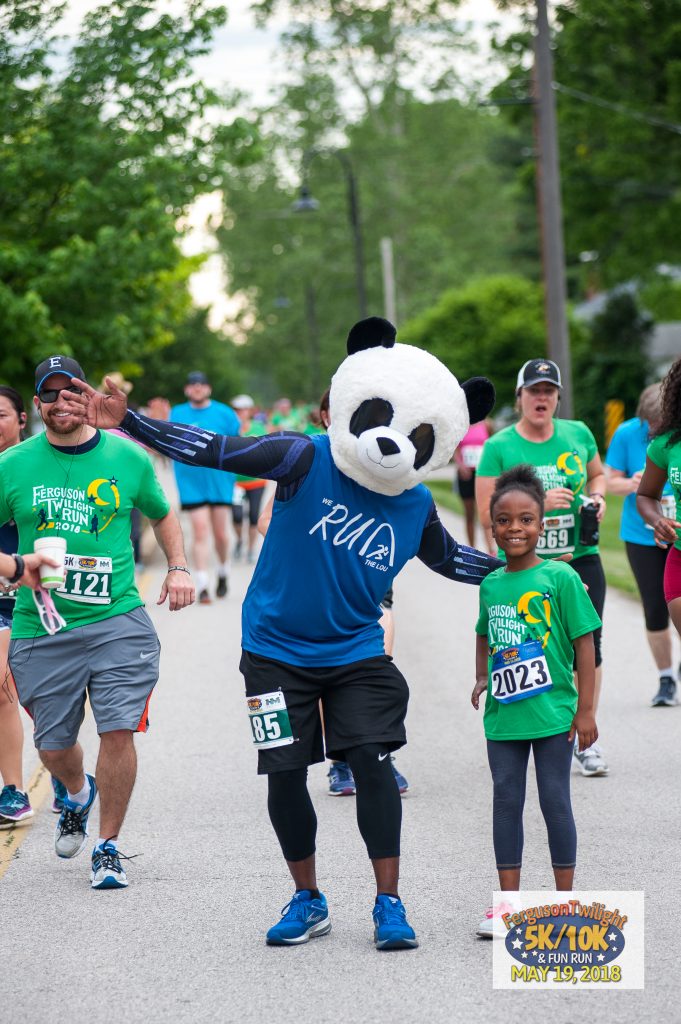 RACE ETIQUETTE & REQUIREMENTS
Bibs & Timing Chips – Participants in the 5K, 10K and 10-Mile will be timed by Big River Race Management.
We will be using the "b-tag" system for timing, which will require no additional work on your part. DO NOT remove your timing tag from your bib.

To ensure that you receive an accurate time, make sure your race bib, which has the timing tag on the back, is clearly visible on the front of your body.

Line Up Properly – Faster runners should line up at the front of the starting line, and slower runners and walkers at the back. This helps prevent faster runners having to weave around slower runners and walkers when the race starts. Even if you are at the very back, the time that it takes you to cross the starting line does not count toward your race time because the timing chip in your race bib is not activated until you cross the starting line.

We will not have assigned start corrals, so we ask that you line up according to your pace per mile. If you plan to walk the race, please line up near the back of the start. Remember your timing chip does not start until you officially cross the start line.
Baby joggers/strollers are welcome, NO PETS, please!  Please do not bring pets to the race; however, service dogs are permitted. Participants utilizing strollers should start at the back of the start area.

Don't Take Up the Whole Road – If you are running or walking with a group, try not to line up more than two abreast so that others can pass you.
Be Careful at Water Stations – Water will be available along the course. When stopping or slowing down through a water station, make sure you're not cutting of runners behind you or spilling water on them.
Race Day Medical – Bike monitors will be on the course for this event in addition to volunteers, aid-stations and police officers. If you need medical assistance, alert one of the above who can help contact our medical team.
Keep Moving at the Finish – Don't immediately stop after the finish line. Keep moving through the chute because there will be runners coming in right behind you.
SHARE YOUR EXPERIENCE WITH OTHERS
We love to see the pictures of our participants and their Ferguson Twilight Run experience. We have backdrops, banners, and other opportunities for you to snap photos to post to social media. Be sure to use the hashtag #RunWithFerguson and tag us (@Ferguson Twilight Run on Faceback or @fergtwilightrun on Instagram and Twitter) too!
COME FOR THE RACE, STAY FOR THE CONCERT, AND TREAT YOURSELF TO DINNER
The Ferguson Twilight Run starts and finishes in downtown Ferguson, MO. In addition to the food vendors in the finish area, there are plenty of restaurants close to the finish area for you, your family, and your friends to patronize.
WEATHER OR DISASTER EMERGENCY
The event will proceed rain or shine. No refunds will be issued if the event is delayed, altered or canceled. Any pre-race weather or disaster related information will also be posted on FergTwilightRun.com, Facebook, Instagram and Twitter.
In the event of severe weather or a disaster that causes the event to be delayed, altered or canceled, please listen to the announcer at the start/finish line or race officials along the course for special instructions.
Proceeds from this event support healthy and active programs in Ferguson and North St. Louis County. Click here to nominate your organization for the Donnie White, Sr. Memorial Ferguson Twilight Run Award.